We secure £10,000 grant from Awards for All Northern Ireland
Published on 18 September 2020
We have launched a new Northern Ireland-specific helpline after receiving a £10,000 grant from Awards for All Northern Ireland.
The helpline enables our charity to provide information and support relating to coronavirus, to autistic people and their families and carers in Northern Ireland.
Thanks to this funding, we have also been able to reopen the outdoor play area at our autism centre in Carryduff. It provides a fun and safe environment where autistic people and their families can play and relax together. The outdoor play area can be booked in advance and is open at weekends.
Awards for All is part of The National Lottery's Community Fund. It offers support to charities and community groups that matter to local people and communities during these uncertain times.
We reached out to one family who tells us how beneficial the new Northern Ireland Helpline service and outdoor play area will be for them...
How has the National Autistic Society helped or supported you/ your family?
The National Autistic Society has given Connor a safe place to play by letting our family have access to the outdoor play area. Connor loved having this space to himself as he can find it very challenging to access the community. Over the last few years NAS has provided a Summer Scheme which Connor has attended. Each child has an individual member of staff to support their needs. This is an opportunity for Connor to engage in meaningful activities and have positive interactions. This year it was appreciated more than ever due to the difficulties with Covid-19.

The National Autistic Society is introducing a Northern Ireland specific helpline to support autistic people and their families. How beneficial would this be for you/ your family?
It would be very beneficial to have an advice line specific to Northern Ireland. It would be great to have guidance and expertise from the National Autistic Society in times of need.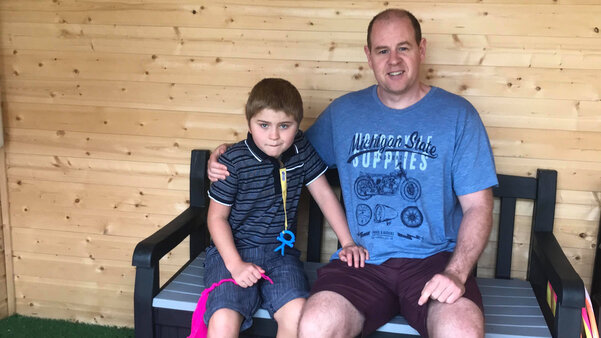 How has your family coped during the coronavirus pandemic?
The last five months have been incredibly challenging. Before Lockdown our 10-year-old son Connor went to school, visited playgrounds and enjoyed the pool. All these activities stopped and Connor had no idea why. Online learning was not an option for Connor due to the severity of his learning disability. Our main focus was to keep Connor calm and regulated each day.
What tips would you give other autistic people and their families during the coronavirus outbreak?
For us, we simply had to take one day at a time and try not to become too overwhelmed with the situation.
How has the playground benefited your family?
Connor loved visiting the playground. It was great to have the facilities to ourselves. Connor can become quickly agitated with the noise of children and dogs barking. It was lovely to be in a safe environment in which we could all relax and have fun together. Thank you for making that possible during these hard times.
Shirelle Stewart, Director of National Autistic Society Northern Ireland, said:
"Autistic people and their families have told us that lockdown has been incredibly challenging. That's why services like our helpline, and the reopening of the play area at our state-of-the-art Autism Center in Carryduff, are incredibly important.
"I'd like to thank Awards for All for enabling us to support autistic people and their families in Northern Ireland during these unpresented times."
To find out more about our helpline, or services in Northern Ireland, please click here.