Essential Autism licensed user training
This training licenses autism experienced professionals to deliver the Essential Autism course to their staff teams.
About the training
Essential Autism, provides an understanding of autism and supportive strategies. It is interactive and equips delegates with strategies that they can take into their workplace. Focusing on autistic perspectives, the session will explore how delegates can adapt strategies to ensure giving the best possible support and understanding.

Essential Autism is based on training that the the National Autistic Society specialist autism trainers have been delivering successfully to thousands of professionals across the UK and beyond for a number of years.

Trainer: Niki Daniel or Mandy Rutter
*Contact us for an application form to book.

Training times
This training will run over three days from 9.30-11.30am and 1-3pm.
Outcomes
Recognising the different experiences and communication of autistic people.
Challenging stereotypes and promoting individuality.
Encouraging participants to review their interaction style and environment.
Course requirements
At least 3 years' experience of supporting autistic people.
Experience of training/workshop delivery or public speaking.
Ability to use their own autism knowledge and experience when delivering the Essential Autism course, alongside recognising the importance of the autistic perspectives that are fundamental to the ethos of the course.
Submit an application form to apply to become a National Autistic Society Licensed User.
Course assesment
During the course, the applicant will:
Demonstrate active participation.

Lead at least one group exercise.

Be observed throughout the course and evidence of values base collected.

Complete a post-course assessment.
Each licensed user will receive a copy of the course booklet Essential Autism – what you need to know and a Licensed User Manual. This will include a programme plan, detailed session notes and electronic files with the information and resources that you need for delivering your own Essential Autism course. Please see below for important information about course preparation, delivery and materials.

On successful completion of the training course, applicants are licensed to deliver the Essential Autism Course within their own organisation having signed a 2 year licensing agreement.

The terms of the license will enable licensed users to deliver the training within their own organisation. The license does not permit you to charge your delegates for attending a course.
Post-course learning and license renewal
In order to continue successfully delivering Essential Autism courses locally, licensed users will need to;
Comply with the National Autistic Society quality assurance process.

Deliver a minimum of two Essential Autism courses per license period (2 years).

Complete an annual professional development report to demonstrate at least 15 hours of Continued Professional Development (CPD) over the license period (e.g. attendance at a conference or private study).

Maintain the necessary insurances and indemnity cover.

Pay the annual licence fee.

Maintain continued employment with the same organisation.
CPD Accreditation
This module is accredited by the CPD Certification Service (the leading CPD accreditation institution) as conforming to continuing professional development principles.

Learners will receive a certificate of completion which can be used as verifiable documentary evidence when submitting CPD recording forms.

For further information on the CPD Certification service please visit the CPD website.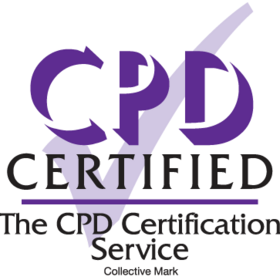 Live online training for individuals
Training on a scheduled date, £595 + VAT, (includes training materials and the initial 2 year license)
Live online training for organisations
£595 + VAT per person, subject to minimum and maximum numbers. Contact us for an application form
Face-to-face training for organisations
£675 + VAT per person, subject to minimum and maximum numbers. Contact us for an application form
Course delivery

Essential Autism courses are delivered for between 5 to 20 delegates, all of whom will receive an accompanying booklet.

It is a 6 hour course. Suggested timings for the course are 9.30am to 4pm, although this may be altered to fit with your local needs. Recommendations for timings and venues will be discussed during the Licensed User training.

All Licensed Users must undertake to submit quality assurance data from their courses to The National Autistic Society in order to ensure quality control of the training. This will include attendance records and evaluation forms.

Course booklet

The booklet Essential autism – what you need to know supports the course and must be provided to each delegate attending the course. Currently priced at £5, this booklet is a unique resource which compliments the training by providing a collection of experiences, thoughts and advice from autistic adults. These are available to order from the National Autistic Society.

Resources needed

The Licensed User Training Manual will support the delivery of the training. The course itself is delivered to the group using a PowerPoint Presentation, accompanying video clips, workbook and some additional hand-outs.

Electronic copies of the materials along with master documents are provided in the Training Manual.

Resources needed include electronic equipment to show PowerPoint presentations and video clips, flipchart and pens, and light refreshments for arrival and break-time.
Tell us more about your needs
We offer consultancy, in-house and bespoke training services for organisations.